Looking for a first birthday photo shoot without the mess? Here's how it's done
January 4, 2022
The first birthday photo shoot has pretty much become synonymous with a Cake Smash nowadays. And with good reason – it's a fabulously fun, hilarious way to capture babies doing what they do best – playing with food with zero monkeys given about what they look like or how much mess they make. And with "before" portraits, the smash itself and then the bathtub section, it's basically three photo shoots for the price of one!
But not everyone loves a cake smash!
But what if your baby hates that sticky messy feeling? What if they aren't too confident feeding themselves yet? What if they don't like the sweet stuff? (After all, you've spent the last six month feeding them healthy purees and savoury rice cakes). What if YOU can't stand the mess?
This is where my fake-cake first birthday photo shoot comes in! Yes, you really can have all the fun of a birthday themed shoot without getting a single smear of icing on ANY part of your baby!
Eddie's no-cake First Birthday Photo Shoot
Meet Eddie, who celebrated his first birthday with me last year. His mum and dad aren't a fan of mess, but they still wanted to celebrate his first birthday with one of my bespoke themed sets. Mum had a toddler sized vintage car that had featured in their wedding and would one day be Eddie's – and they were both a fan of the vintage look. Could I create a set based around that?
Of course!
Creating a themed set from scratch
My first move was to source a whole bunch of racing car/ retro garage props and, as my husband is a petrol head with a 1973 Chevrolet Camaro which he drag races, I took FULL advantage by "borrowing" his tool boxes, tools and some of the decorations from his man-cave. I also visited our local secondhand market for tin signs, oil cans and old number plates. This is Eddie's finished set, complete with fake cake: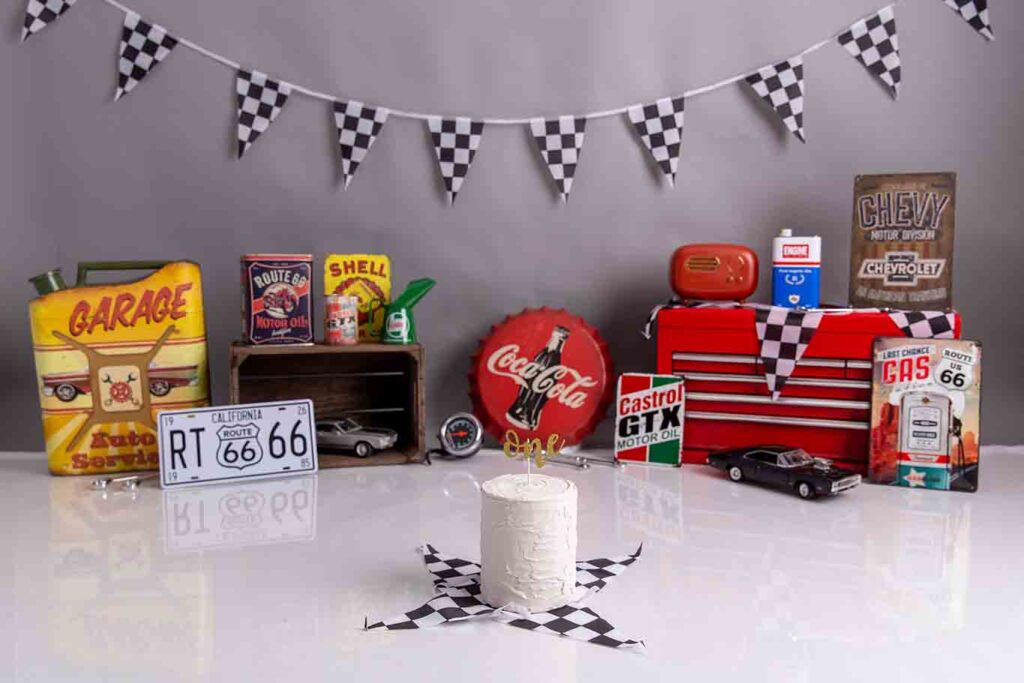 Once mum had given it the thumbs up, I planned the session without the cake smashing section. Eddie turned up on the day well rested, well fed and ready to celebrate!
When I'm doing a first birthday shoot without a cake, it's important to still give a great variety of pictures to choose from, so I spend much longer on the portraits. We had Eddie's car for him to pose with: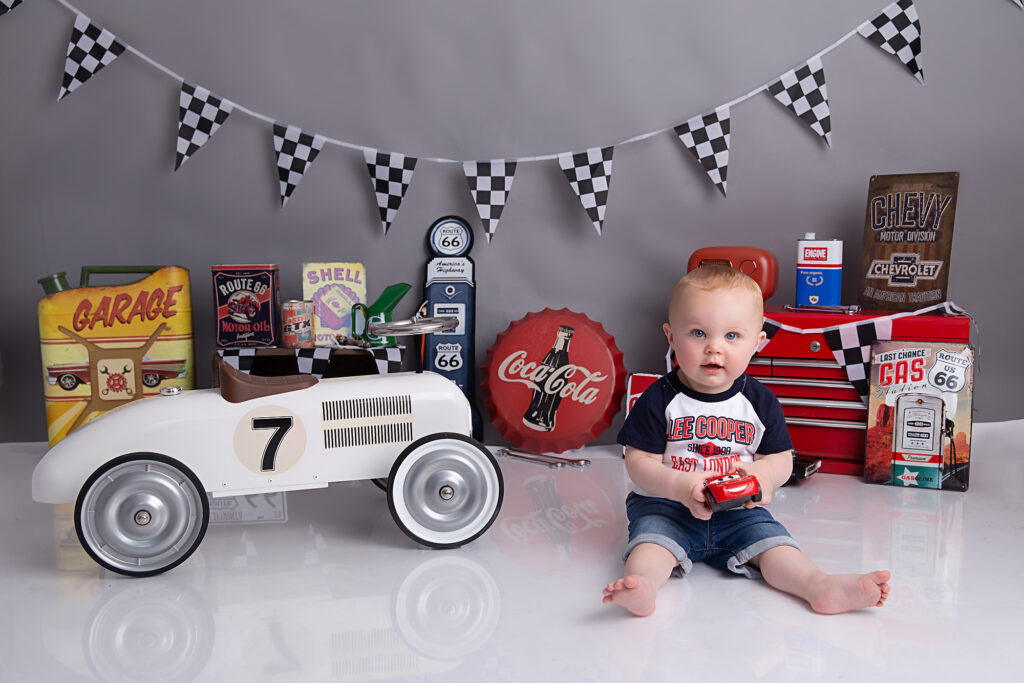 First Birthday Photo Shoot Props
But I also have a whole bunch of birthday themed props I use wherever I can:
In Eddie's case, he also had a bunch of great car themed props to play with!
The ONEder of turning one!
One of my favourite birthday shots is the ONE trio: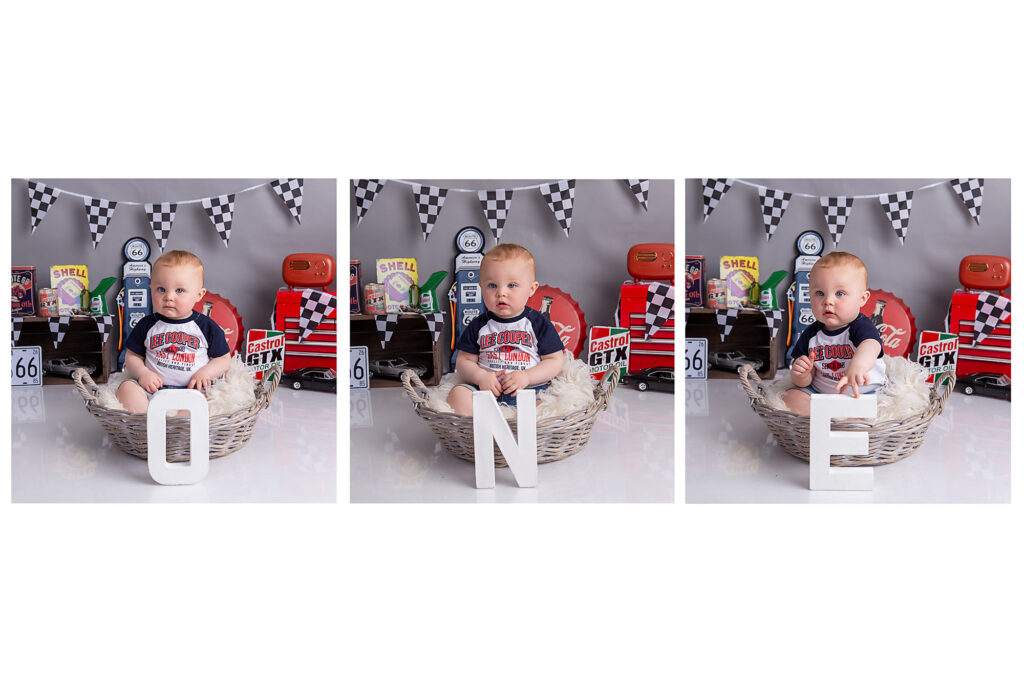 And to make the most of the birthday theme I often use my little chalkboard, so you can record special memories of what they're achieved in their first year:
Enter… the Fake Cake!
Even though we might not be getting a cake to eat, my fake cake still gives the feel of a cake smash! And being plain white, it goes with any set. I've decorated it with cake toppers, flowers and greenery depending on the themes chosen.
The Splash Tub Session
Eddie's mum was also really keen to get some bathtub shots, even though Eddie didn't need a clean up – and this is usually baby's favourite part of the session, so I was very happy to oblige!
First Birthday Family Photos
I'm always happy to include a couple of family shots in a birthday shoot, too. They need to be against your set, but it's a great way to capture the moment:
First Birthday Photo Shoot Collage
And to finish off, a birthday collage completes the first birthday memories: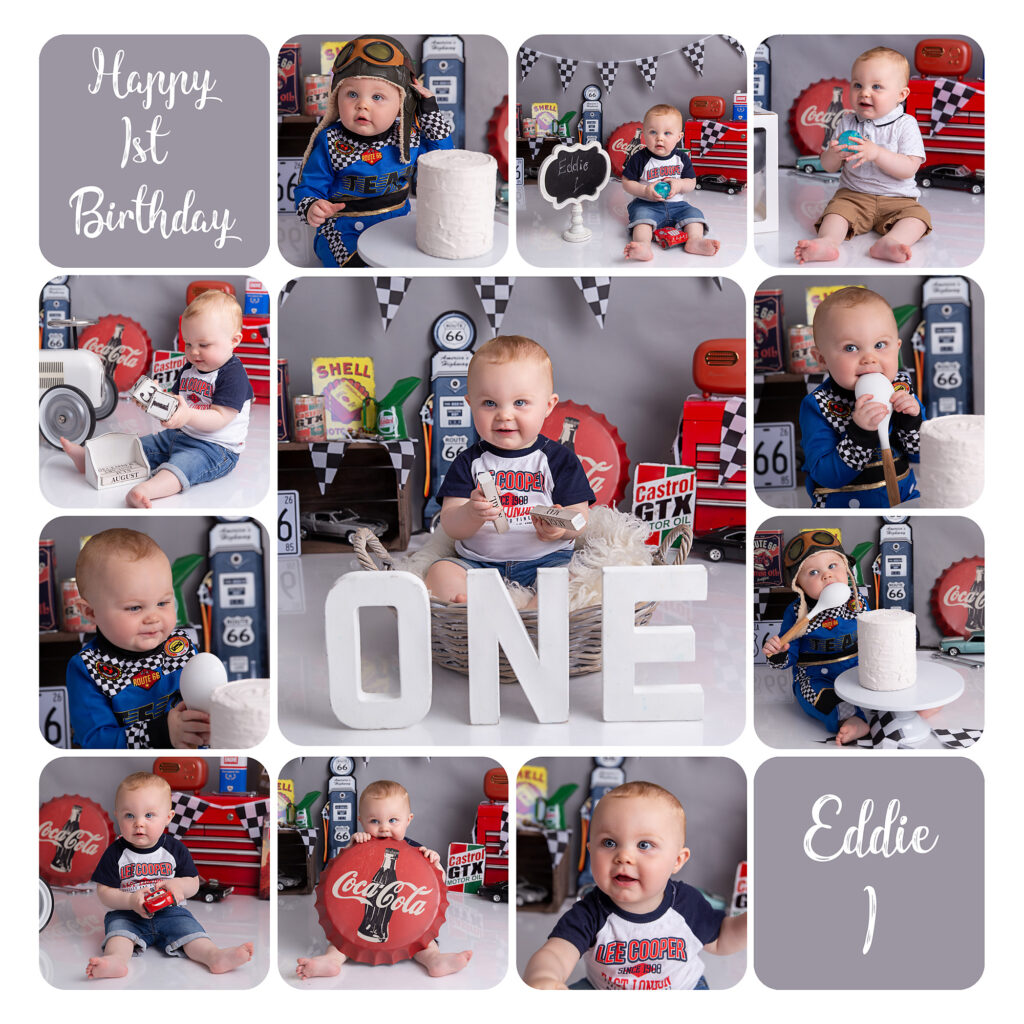 So don't worry if for whatever reason, the thought of a cake smash with all that sweet stuff makes you shudder. We can still capture perfect first birthday memories – all the fun of a cake smash, without any of the mess!
To find out more about cake smashes OR no-cake first birthday photo shoots, click here: