5 ideas for baby's first birthday
January 14, 2021
It's almost your baby's first birthday!
Has it really almost been a year already? How is that even possible?
Around ten or eleven months ago, you brought a brand new human being into your world. A new life that you created and waited 9 long months to meet. You gave birth, you brought your baby home, and you became a whole new person – mum (or of course, dad!) You fed, bathed, dressed, cared for, read to, played with, sang to, cuddled and kissed them.
Long nights, probably some scary moments, definitely some moments of unbelievable joy.
And now look at them! Crawling, maybe even walking; babbling, smiling, laughing; interacting with their world and the people in it. They're coming to the end of that incredible first year.
So how on earth do you mark the end of such an extraordinary year? What can you do to celebrate?
Right now you might be a little limited. Big birthday parties are probably out, as are family gatherings. You might not even be able to celebrate with grandparents. So what can you do to make this first birthday milestone as special as it deserves to be?
Idea #1: Create a Memory Box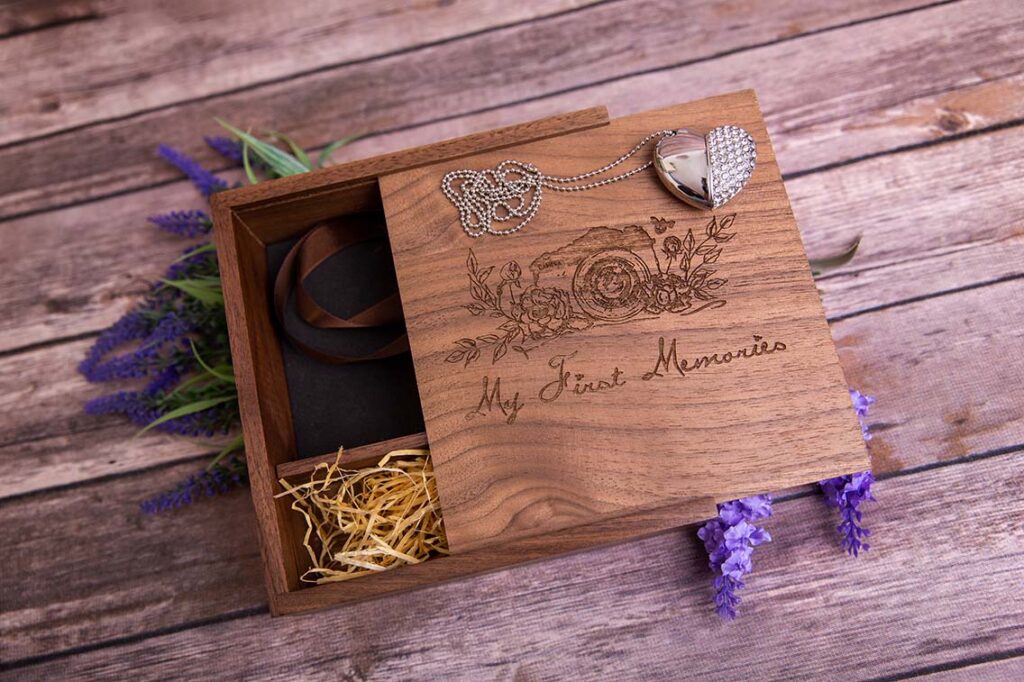 Most people think of memory boxes as something you create when your baby is born. But why not create one at the end of their first year?
You could include:
photos of them at each monthly milestone.
Pictures or lists of their favourite toys.
Notes on what they have achieved by their first birthday: are they standing? Crawling? Walking?
What makes them laugh?
What sounds can they make?
Do they wave, or blow kisses?
What are their favourite songs?
All of these memories can be included, along with cards people send them, maybe a copy of the newspaper from their birthday. You can pop in a pair of shoes or some clothes that you loved to see them in. Then when you look back you can remember who they were when they hit the one year mark.
You can also use your memory box as a lovely way to include family members who aren't able to celebrate with you. Ask people to write your baby a letter for them to read when they are older – they could write about how they felt when baby was born, what their first memories are of them. What they have enjoyed seeing in their first year, and what they are looking forward to over the second! And of course you can write one yourself, telling your baby how they have changed your world and what they mean to you.
Idea #2: Birthday Chalkboard
I often see clients bringing these to their cake smash or birthday photo shoot, and they are a lovely keepsake – a snapshot of who your baby is at this age.
A bit like the lists from the memory box, you can include details that you want to remember: how tall are they, how much do they weigh? How many teeth do they have? What do they like to eat? What's their favourite thing to do?
You can easily find people who will make these chalkboards for you, or you can DIY one – I'm completely useless at craft, but even I manage to make a half decent looking chalkboard. You can buy a blank one from Amazon along with the chalkboard pens, and get creative!
https://www.pinterest.co.uk/almemorablec/birthday-chalkboards/ – for inspiration!
https://www.amazon.co.uk/s?k=chalkboard&ref=nb_sb_noss_2 – for blank boards and pens
Idea #3: The Cake Smash
Well of course I'm going to include this one, because I think it's a perfect way to celebrate a birthday!
You can choose a theme that means something to your baby (like a favourite animal, or book) and have a photoshoot that's truly unique to you and your baby.
And there's nothing quite like seeing a baby dive into a cake for the first time! Of course if mess and sugar isn't your thing, you could have a regular studio shoot, or a family photoshoot, instead.
Have a look at some of the amazing themes mums choose for their smashes with me: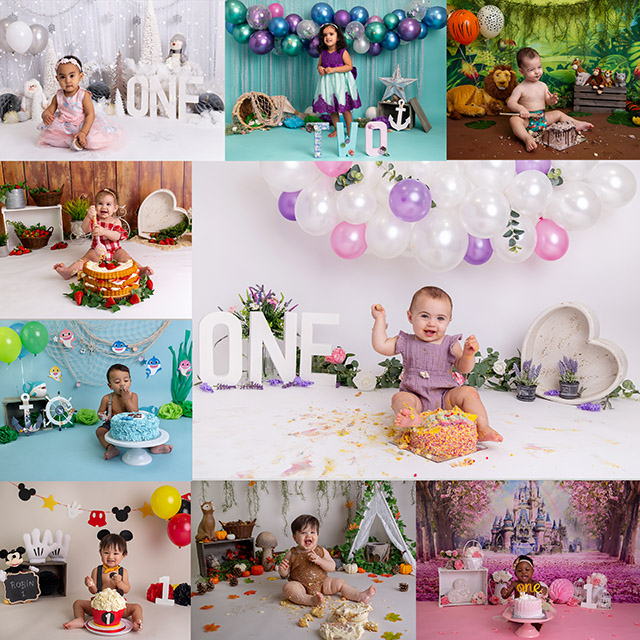 If you can't get to a studio, you can always have a mini cake smash at home. If your baby's first birthday is in the summer time, you can do this out in the garden for some lovely natural pictures. If you do it inside, just make sure you're not on a carpet – cake smashes are VERY messy! A corner of the kitchen, on the floor, is ideal as the floor will be easy to clean, and the cabinets will give you a nice plain background (you can also use cupboard and drawer handles to tie a banner to. You'll need just a few balloons – either ordinary balloons resting on the floor, or you can pick up a helium canister for around £25 on Amazon – and a birthday banner across the background. Take a few "before" pictures, and then place baby either behind the cake or to one side. And then get ready to capture as many pictures as possible!
Idea #4: Plant a tree or shrub
Why not buy a baby tree or small shrub that can grow alongside your baby? You can even let them pick it out themselves at the garden centre (well, you can see if there's one they react to!)
If you're really into your gardening, you could even select a small area of the garden for birthday celebration plants.
Each year you can add to it and as they get older, they can help with the planting!
Idea #5: Make casts of your baby's hands and feet
You might have done this when your baby was born – how about making them at a year and seeing how much they've grown? You'll be amazed how much they've grown by baby's first birthday! You can visit a pottery studio to have this done, but if that's not possible, you can do it yourself at home with just a few ingredients.
There's plenty of tutorials online but I like this one:
https://www.instructables.com/Plaster-Baby-Feet/ –
I haven't tried it myself though, so I can't guarantee how easy it is – and you might want to wait until your energetic baby is asleep!
Whatever you decide to do, remember that this first birthday is all about celebrating and creating memories – but don't get stressed out by planning huge events or spending bucketloads of money.
Your baby won't remember the day itself, but they'll enjoy looking back at the memories you created, so making them meaningful is much more important than how much you spend.
I hope that's given you some ideas – and if there's any I can help you with, like a photo-shoot, be sure to get in touch!