Themed cake smash for baby's first birthday
March 24, 2021
My favourite sets!
Thinking about a Themed Cake Smash for your Baby's First Birthday?
For a while now, the cake smash has been the "Must Have" end to your baby's first year.  Start with a newborn session, have a couple of mini sessions in between (baby's first Christmas, baby sitting up) and top the year off with a smash session!
Over the last couple of years, though, a new concept has been increasing in popularity.  Enter my favourite of all sessions; the themed cake smash!
What's a Themed Cake Smash?
Whereas a regular smash will usually just feature balloons, banner, puffs etc (usually in blue, white, or pink) a themed cake smash set is MUCH more elaborate.
You start with something that means something special to you and your baby. Maybe a certain animal, or a TV show or book.
Sometimes it's something you enjoy as a family – camping, flowers, nature. It might be a fantasy setting – a fairy tale castle, or up in the clouds. And the whole set – the decorations, the outfits, the cake – is themed around that concept.
It's a chance to really use your imagination, enjoy a unique photo shoot that really celebrates the personality your baby is starting to develop.  And it's a beautiful way to capture memories of who they are and what they enjoy at this wonderful age.  You can even really go wild on a themed smash for your baby's first birthday and use fruit instead of cake.
Strawberries, watermelon, blueberries and pancakes – you name it, we can smash it.  You could even ask me for a spaghetti smash, if you fancy getting VERY messy!
What if I'm not feeling very imaginitive?
Luckily for you, the actual set creation is all down to me and my imagination! All you need to do is give me a basic idea. I'll then create something special for you – and I'll make sure you've seen the set before the big day, so I know it's what you were hoping for.
Once I have created a themed cake smash set, I'm more than happy to use it again, although often I'll tweak the set so that it's still fresh and unique for you.  So you're more than welcome to pick your favourite set from themes I've already done.
My favourite Sets for Girls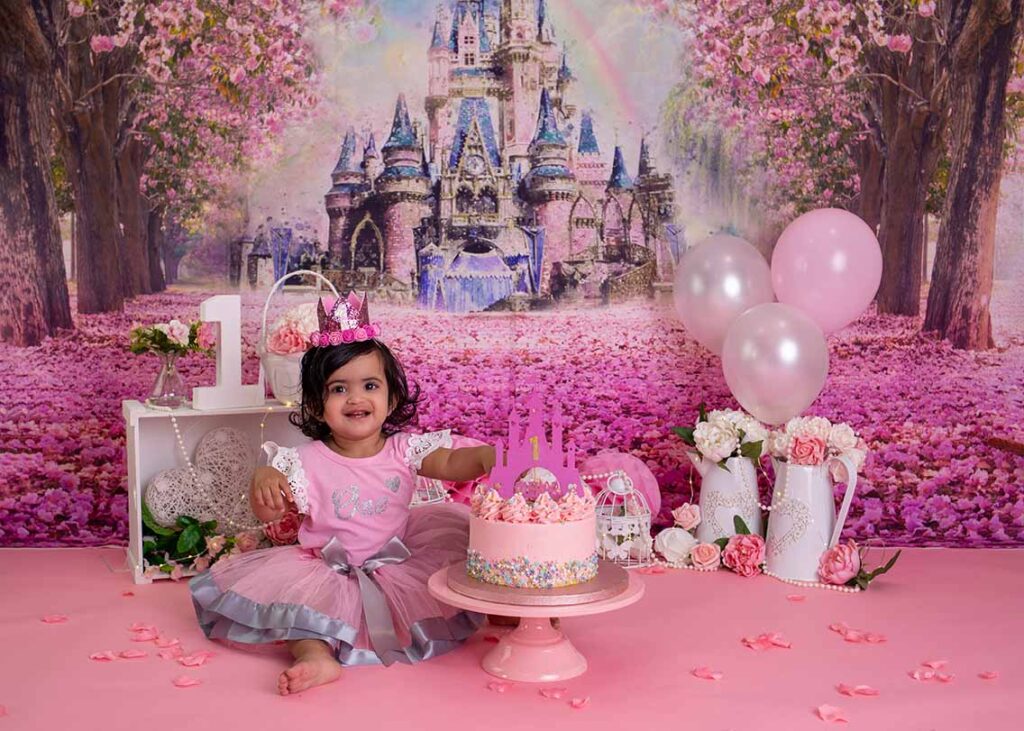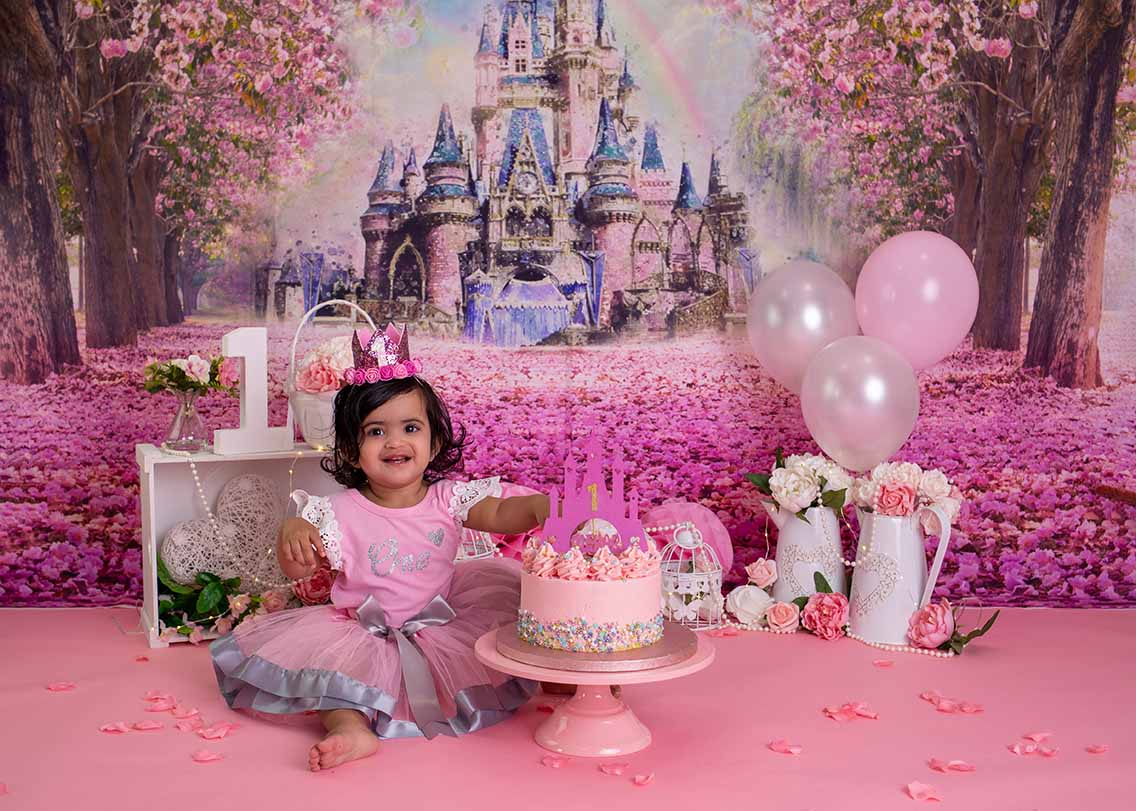 Princess
This is the ultimate girly pink cake smash and it's my most requested theme.  The fairy tale castle is just beautiful and who doesn't love the fantasy of being a princess?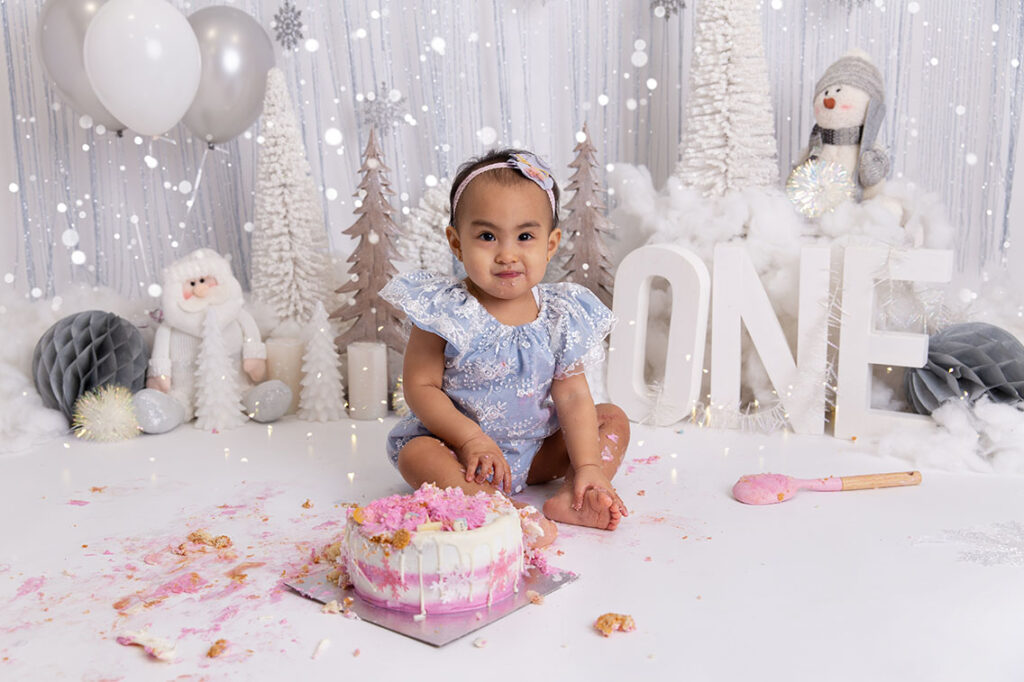 2. Winter ONEderland
This one is so beautiful for winter babies.   It's all about glitter, sparkles and snow.  This one is usually plain white but you can always ask me to add a splash of pink or lilac if you'd prefer a little colour.  You can also bring in blue and make it suitable for a boy.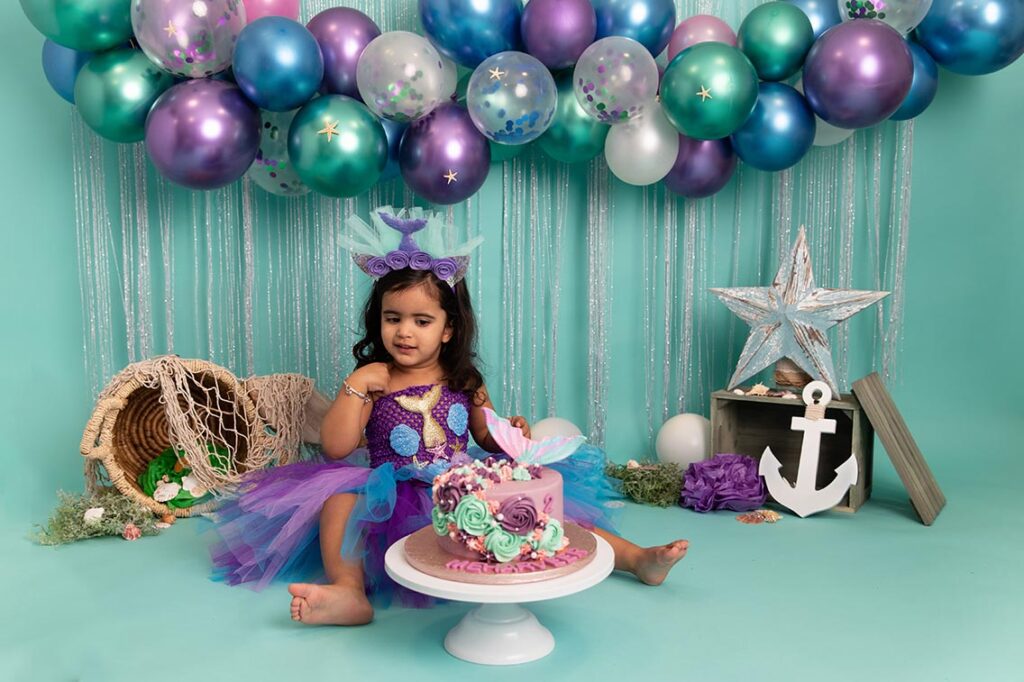 3. Mermaid
I love, love, love the colours in this shoot! There are subtle sea props in the background but the focus of this set (apart from your baby, of course!) is that amazing balloon garland.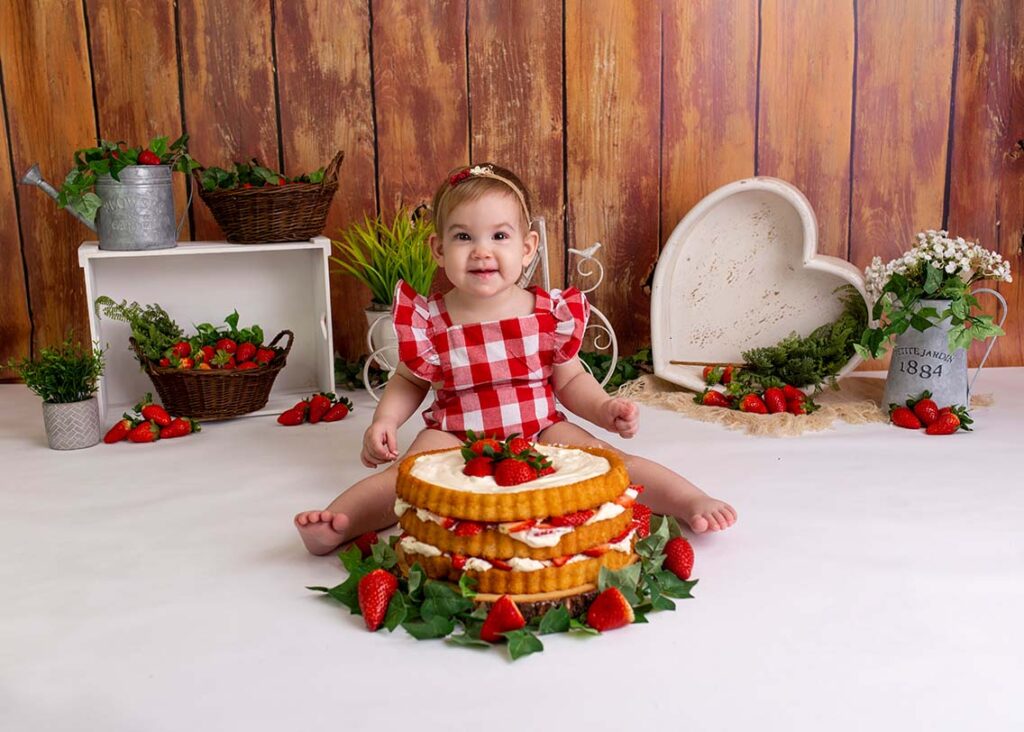 4. Strawberries
As a healthy option, you can't go wrong with strawberries and most babies love them.  This set works so well as a rustic, back-to-nature set and could work for boys too.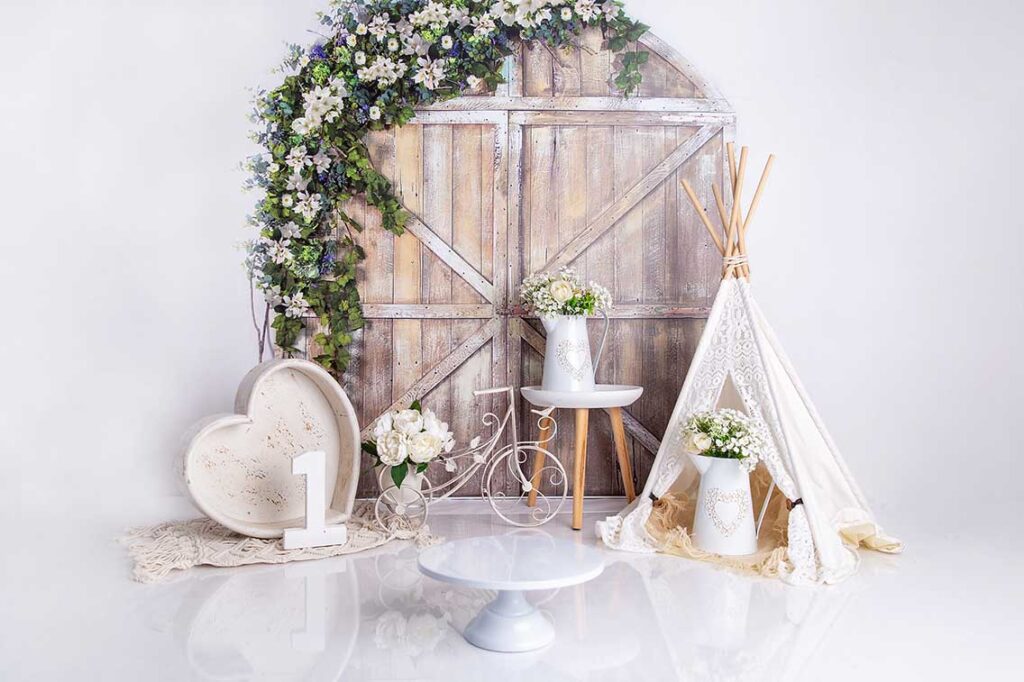 5. Flowers/Boho
This one has to make the list not just because of the gorgeous boho props (the tepee is my most requested prop!) but because it's so incredibly versatile.  You can theme this one around any flower or colour you like! I've done floral themed sets with roses, poppies, and sunflowers but any flower will work.  It's natural and beautiful, just like your girls!
My favourite Sets for Boys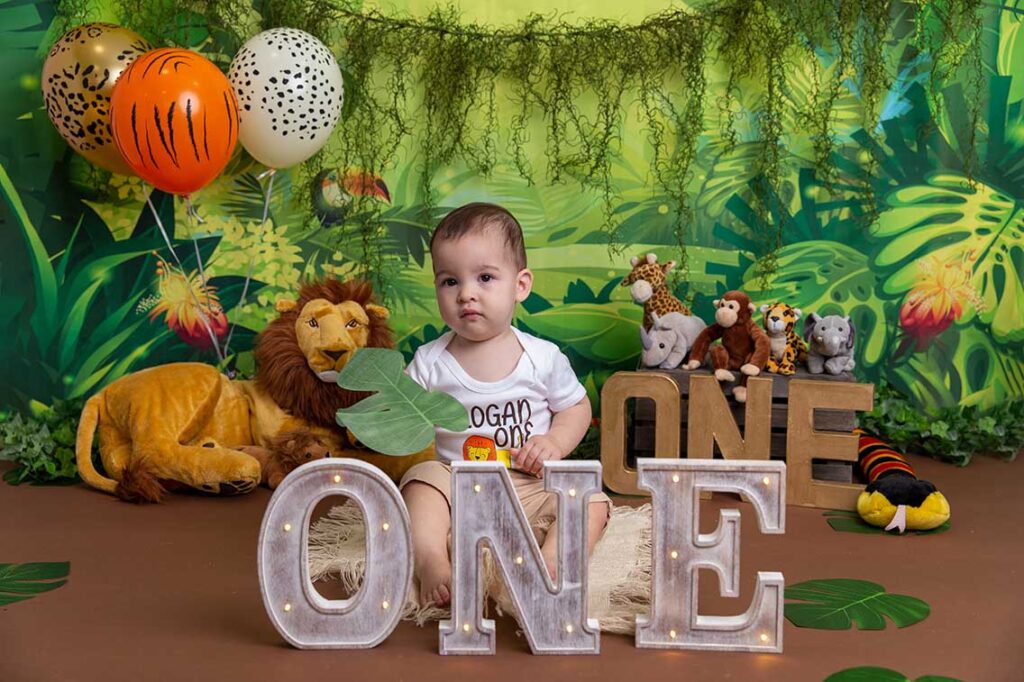 Jungle Explorer
This is my most popular boy's set and definitely my favourite.  You can pick a particular favourite animal (Logan's animal of choice was the lion, which I know isn't strictly a jungle animal but it's what he loves!) Or you can have a wider Explorer theme.  Celebrate your boy's wild side!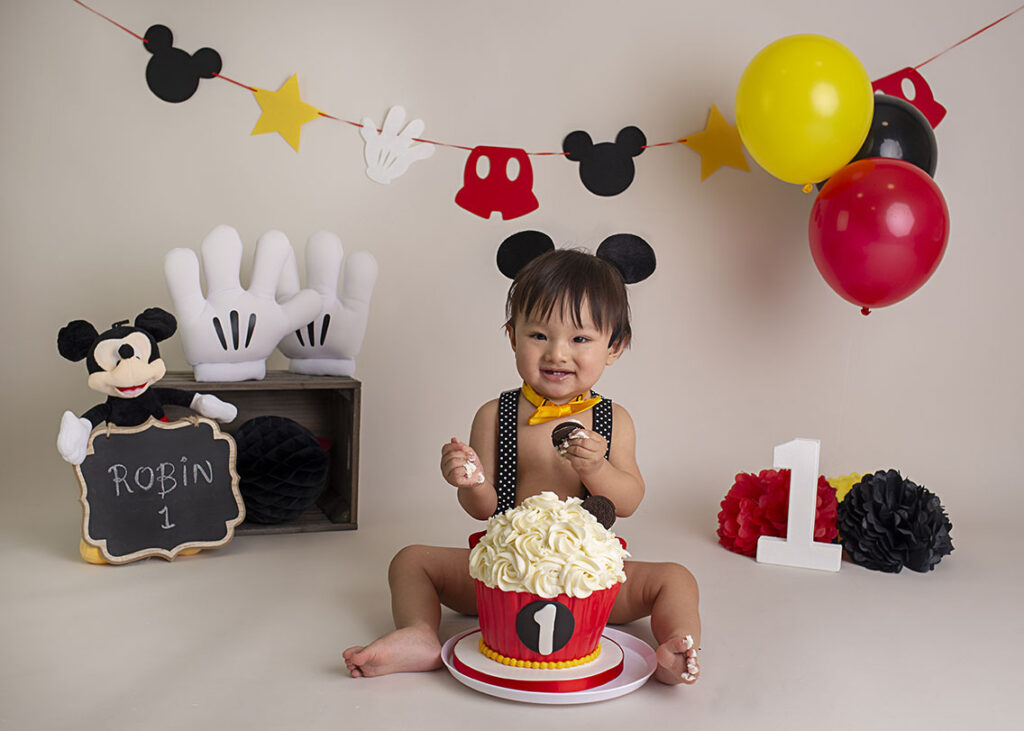 2. Mickey Mouse
This is a classic – who doesn't love Micky? You could also use this for girls, of course, and change Mickey for Minnie.  This one is super fun and cuddly and I love the bright colours.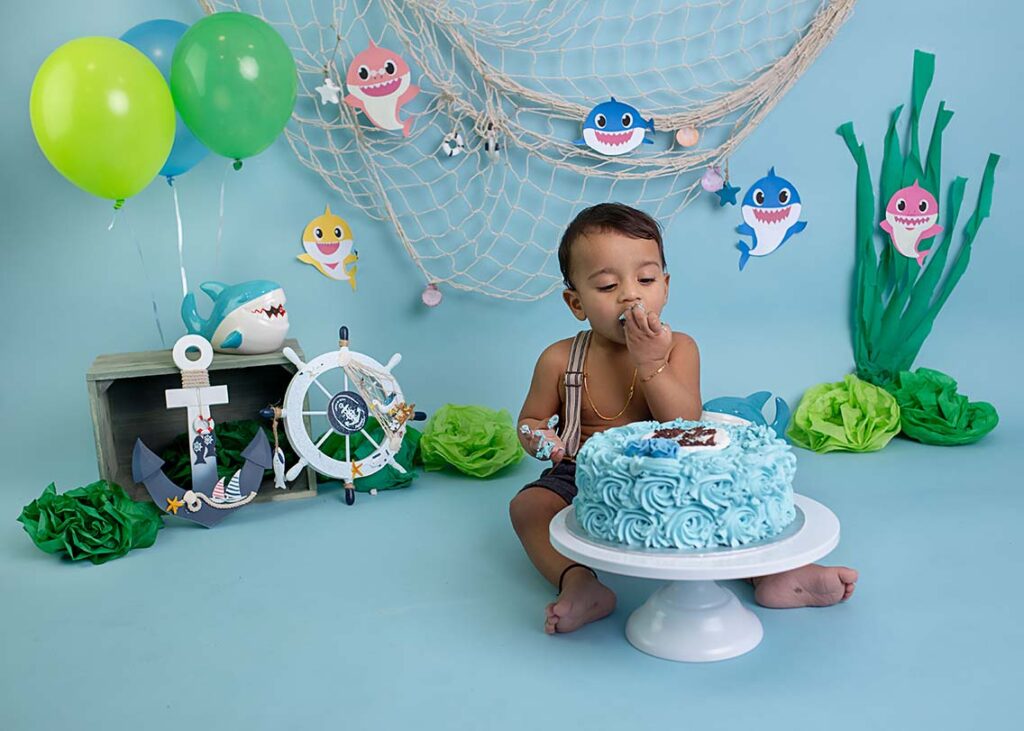 3. Under the Sea
If you don't know the words to Baby Shark, are you really a parent?! They all love being under the sea! This theme is so cute and brings in the classic baby blue that so many mums love.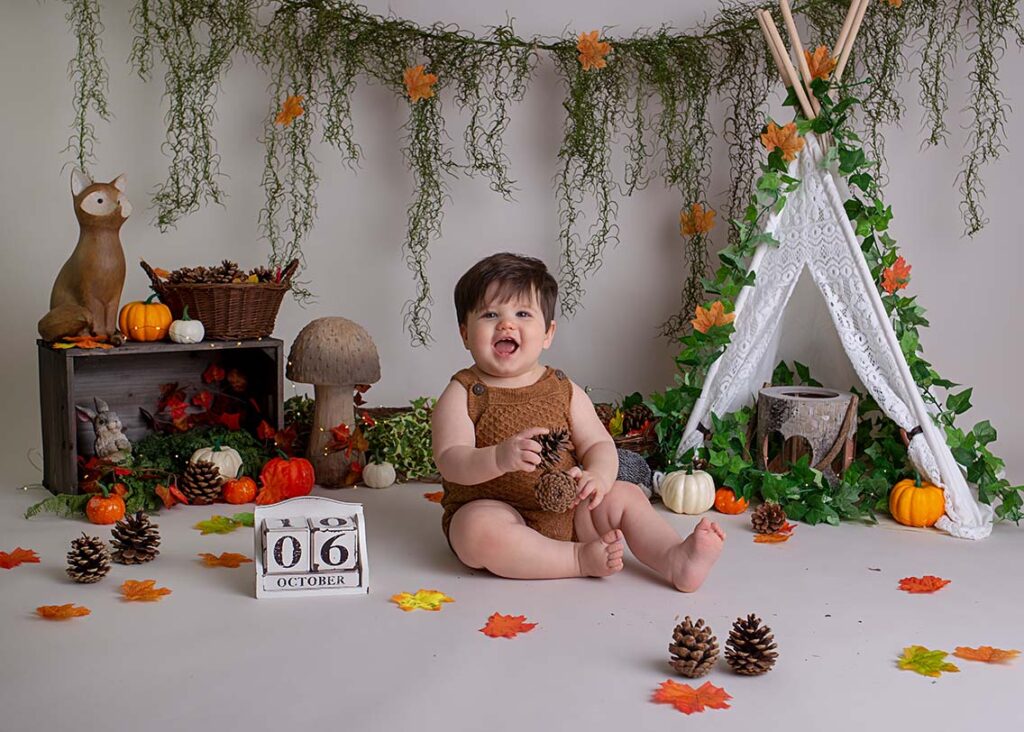 4. Woodland Explorer
This is another great explorer theme and all little boys love being in the woods! You could easily adapt this one to a camping theme too.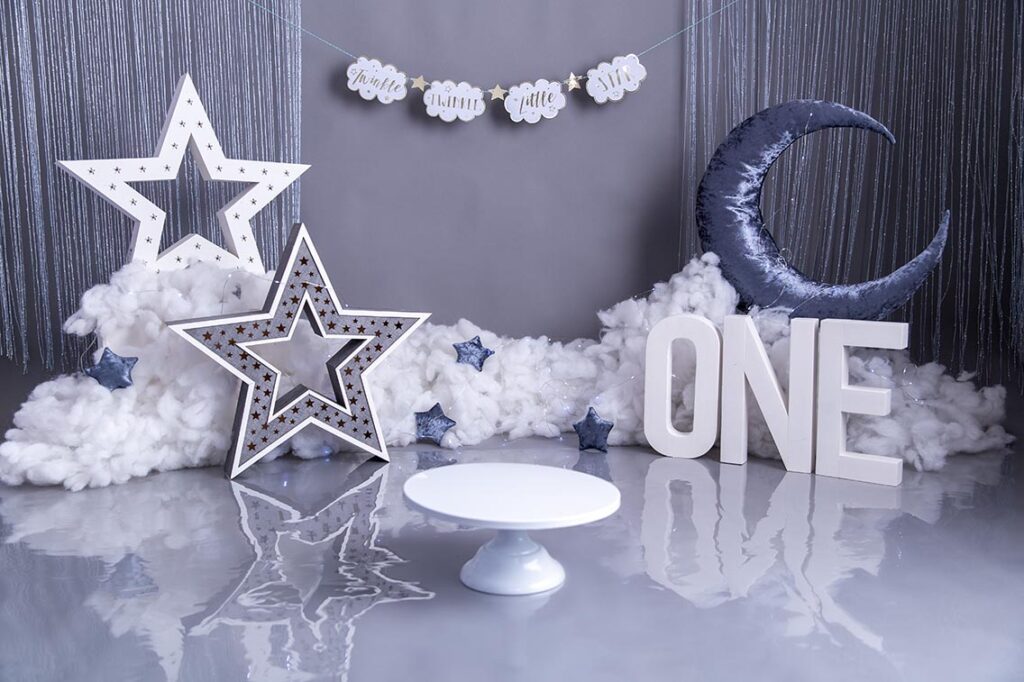 5. Twinkle Twinkle
I was SO excited when I got asked to do this theme! Grey is such a popular colour right now but when you add in the twinkle of stars and the puff of clouds, it's a match made in heaven! And now I'm thinking about an astronaut theme too…
These are just some of my favourites and I'm sure by the end of the year I'll have another ten to add to the list.  So if you are looking for an Essex based cake smash photographer, get creative and bring me a challenge for your baby's first birthday! My studio is based in Basildon, Essex and I offer shoots to Basildon, Chelmsford and surrounding areas of Essex.