Thinking about a photo book for your baby?
December 29, 2020
My Top 5 Tips For The Perfect Photo Book
My babies are getting pretty grown up now – they're currently 11 and 13 – and they love to look back through my photo books and talk about the pictures they see in them. There's a cupboard in my bedroom which is packed with albums (usually one photo book per year) so I thought I'd share with you, my top tips for creating photo books which will last a lifetime.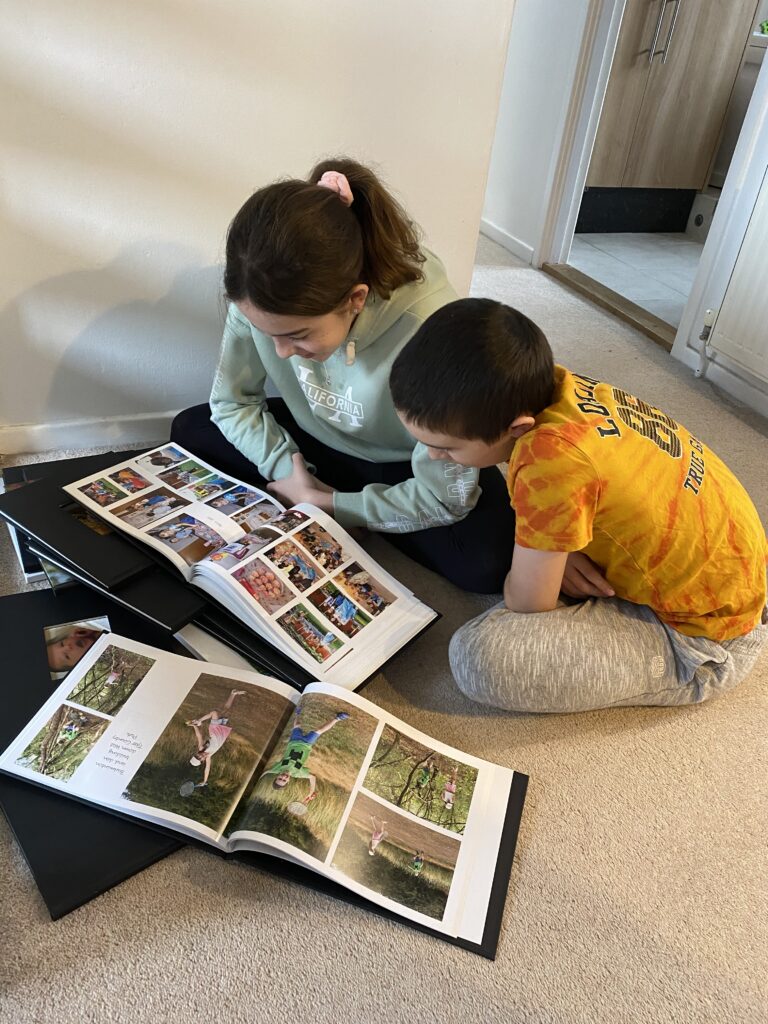 Get Organised!
The key to good, easy photo books (or albums) is to have a system. Each January I create a folder on my PC which is dedicated to that year's pictures of the children, and because I take literally hundreds of pictures of my children every year (okay, every month) I have this arranged into sub-folders ("At home", "Out & About", "Birthdays", "School events") and so on. In their very early years, I separated these into months – birth, month one, month two, first Christmas, first birthday and so on. Babies and toddlers change SO fast that you need to capture lots of images, which means lots of folders to keep them organised and in date order for when it comes to printing.
I regularly upload from my phone and i-pad and cameras, culling the images I don't want to keep. It doesn't take long – maybe ten minutes every time I do it – and it means that when I come to create the photobook, I've got everything organised and I've already selected the ones which are good enough to be printed. So there's no scrabbling around trying to upload and sort through an overwhelming amount of images – plus, I know that if I lose my phone, the pictures are safely protected on my PC or laptop!
If this tip makes you break out in a cold sweat, please trust me that it honestly doesn't take long and I guarantee it will make you more likely to actually print your images out in a format which works for you. So no more scrolling endlessly through your phone to find an image, or trying to work out how old your child was in each picture!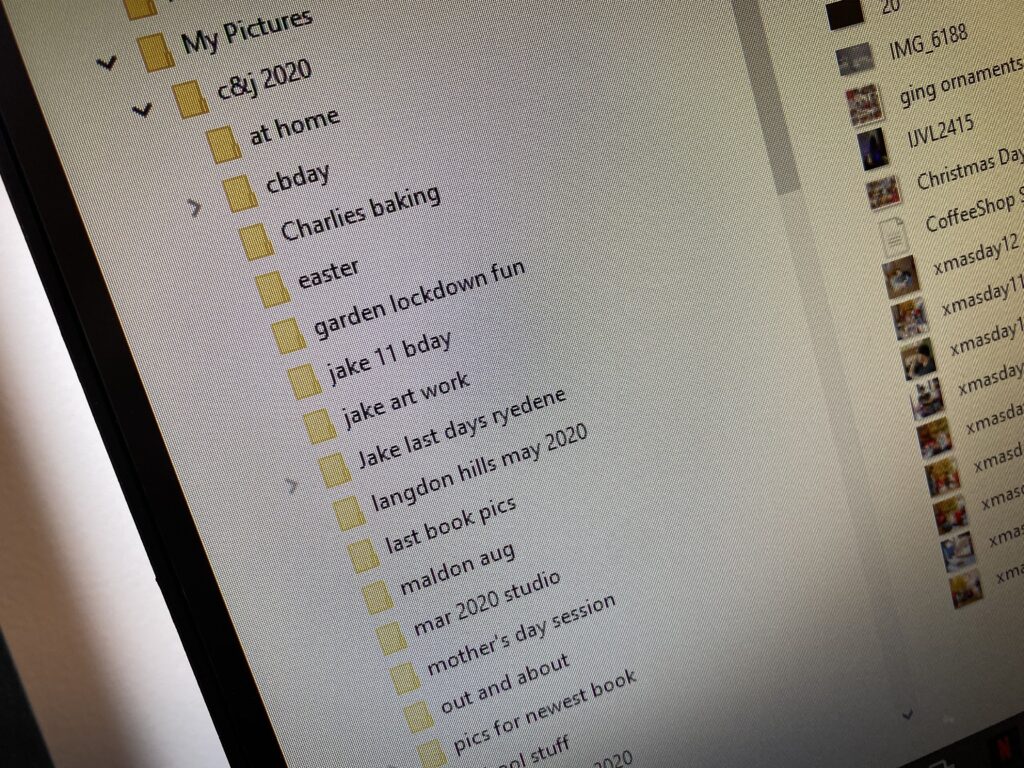 Make Sure You're In Some Of The Pictures!
If you're familiar with my blogs, you'll have seen this point again and again. I'm willing to bet that you take tons of pictures of the kids by themselves, and probably a fair few of them with dads, grandparents, friends and family. But how many times do you hand the phone to someone else so that you can get in the picture yourself? You may hate having your picture taken. But trust me, your children will LOVE to see pictures with you in them too. You were an essential, ever-present, ever-important part of their childhood – let them see photographs with you in there too. There's not enough of me in my children's early photobooks, but for the last few years I've made sure I'm in them too.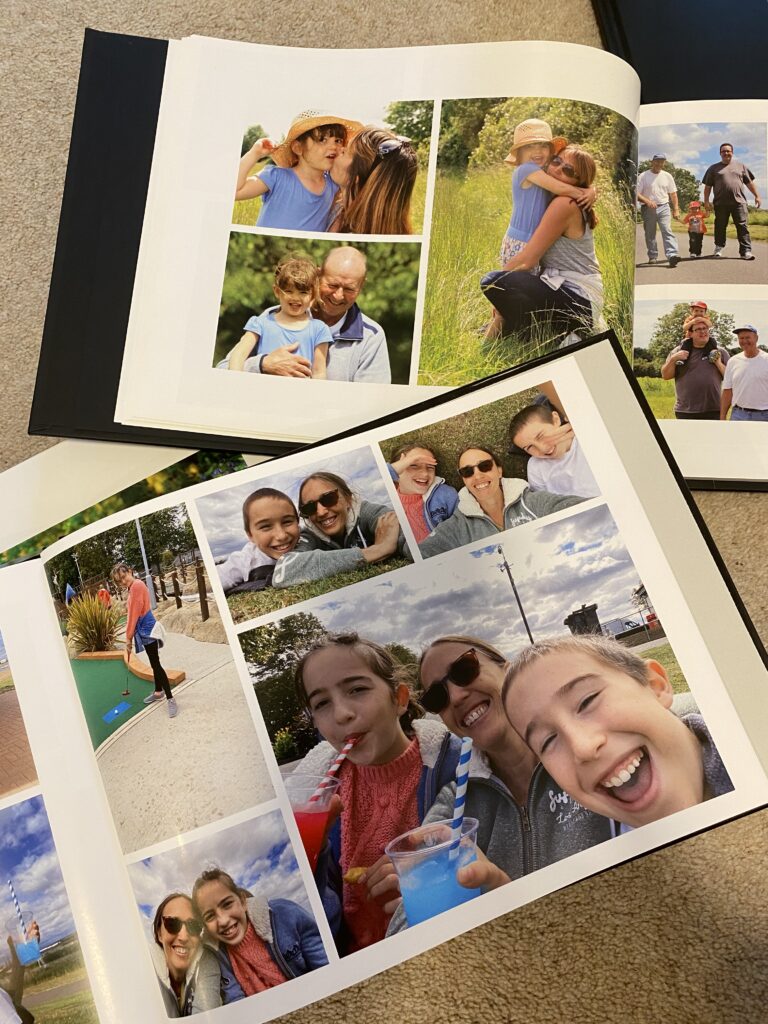 Use A Photo Book Provider That Lets You Add Text
My favourite provider for photo books is Photobox https://www.photobox.co.uk/ . I have used them for photo books since my children were born. They are lovely quality books, at a good price (especially if you wait for the special offers!) and they have great customer service. But the number one thing I love is that you can either go for a super easy creation option where you upload the pictures and Photobox puts them all in a book for you (zero effort!) OR you can choose a manual creation option. This takes a little more time but I ALWAYS opt for this because you can put the photos in an order you want and you can add text to them. This means that every year I can create a timeline of the year, with text explaining what each image was, and I can literally create a storybook of their lives each year. Once you've got the hang of moving pictures about and creating the text boxes (it's not hard) it's a wonderful, personal way to create a photo book.
I also make sure that the title page of each book has the dates that the book cover (like "Spring 2018-Winter 2018") and the children's ages throughout the book. For their baby books, I included a list of milestones such as how old they were for first smiles, first rolling over, first sitting up, first solid foods, first crawling and so on.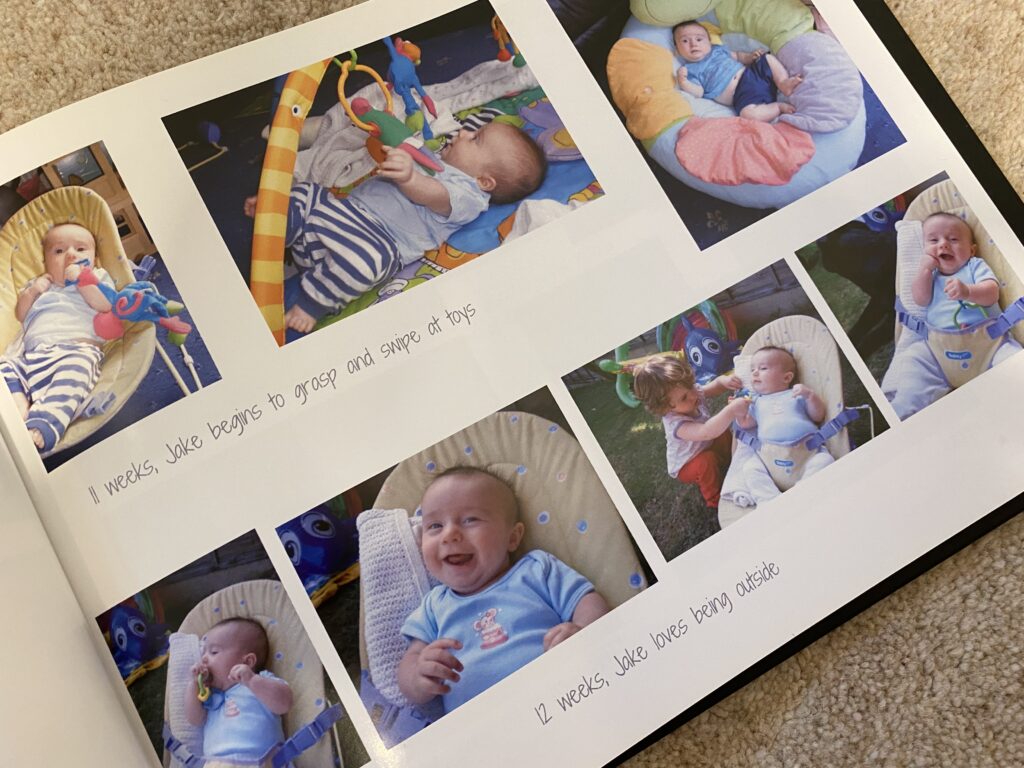 Don't Just Use "Special" Photos…
It's easy to fall into the trap of thinking that if you're going to pay for a photo book, you should only use the best photos (or ones taken professionally, in a studio shoot for example). But sticking to this means you miss out on an opportunity to create a realistic set of memories. The pictures my children enjoy looking at the most aren't the ones I've taken in the studio or on a location shoot. Their favourites are the everyday moments, the quick snaps of them playing with a favourite toy, or cuddling up together in their bedroom, or wearing a particular piece of clothing that they were obsessed with at the time ("Remember the shark top! Oh I loved that top"). They love the pictures of cardboard forts they built in the garden, or dressing up days at school, or helping dad to wash the car. Seeing the photos helps them remember the fun they had and the emotions they experienced. And most of these quick snaps are FAR from technically perfect (even photographers take dodgy blurred pictures sometimes!) but it doesn't matter. It's the reality of their childhood and that's what they love to remember.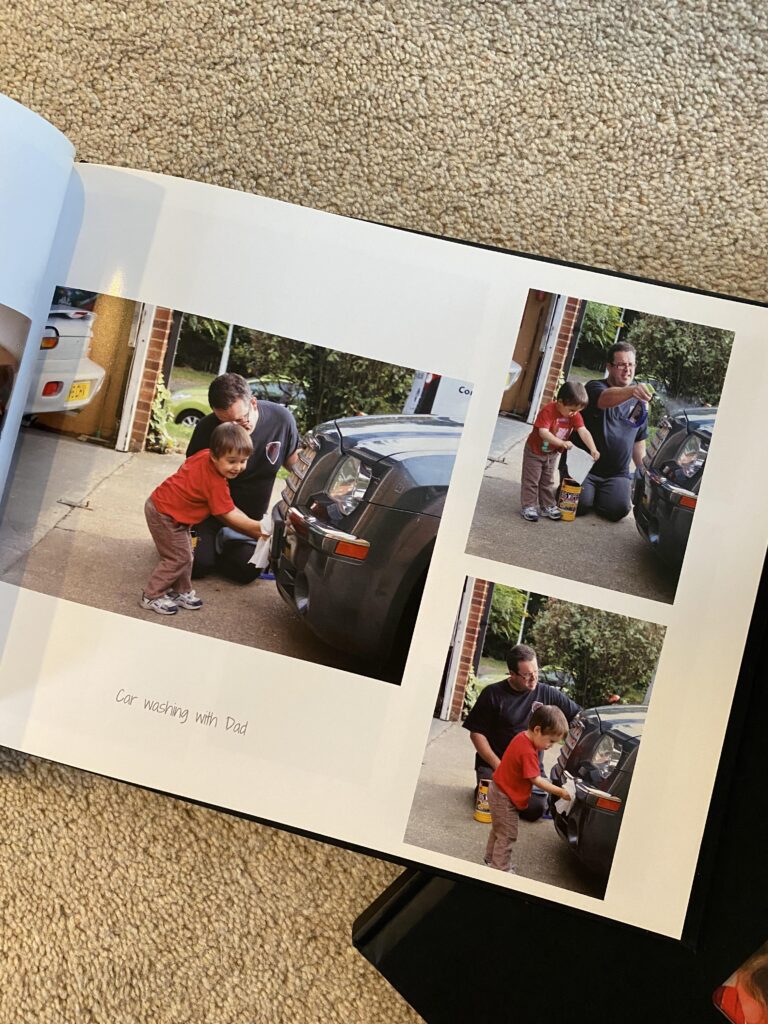 … But Make Sure Your Special Occasions Are In There Too!
When it's their birthday, you probably take SO many pictures. Not just of them opening presents or posing with a balloon, but of all the rest of the organisation and expense that goes into the day itself. Pictures of the table set for dinner or a party, all their cards on a shelf, the birthday cake, a meal out with family, a day out with friends. I like to include all of these so that every year, part of the photobook is dedicated to their birthday. And I include text that reminds me what they were given, who they celebrated with, who came to their party and so on. We spend so much on their birthdays that they deserve a lot of attention in the photobook! The same goes for Easter egg hunts, the six weeks holidays, pumpkin picking, bonfire night, Christmas. And this is where you'll be glad that you got organised, got in the picture yourself, and added text to your book – because all of these things together will mean that you've easily captured another incredible year in your child's life!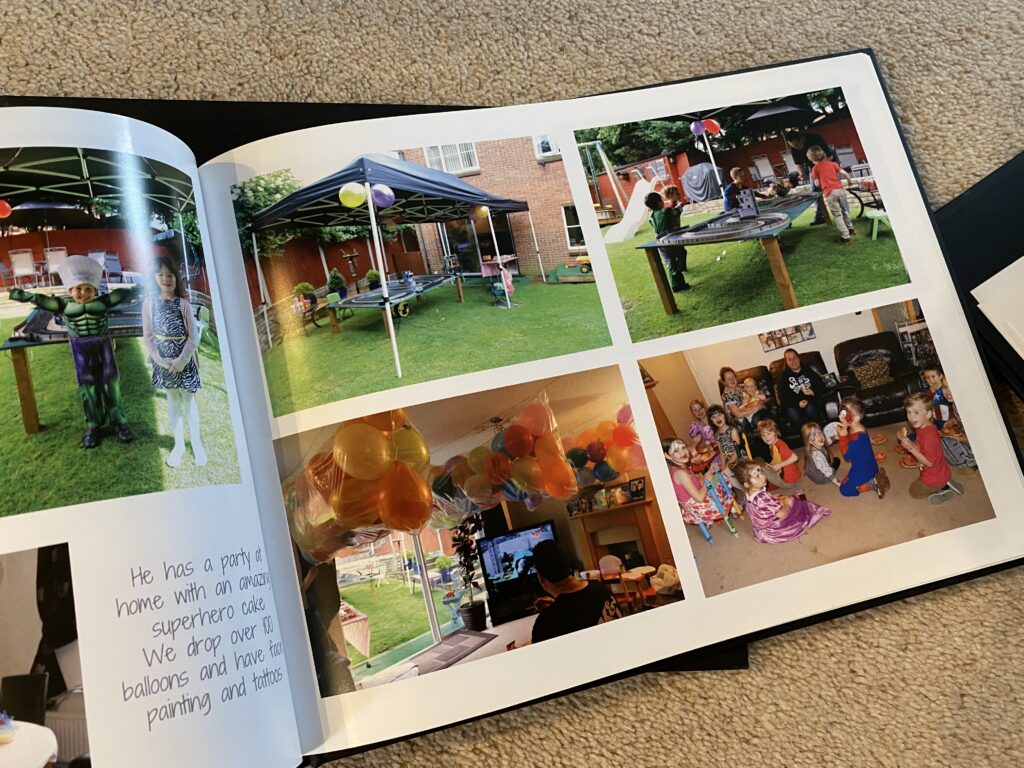 Photo books are a wonderful way to capture the everyday detail of your children's lives. If you do them regularly, you'll have protected your images from accidental loss and you'll have a detailed account of each year of their life. And your children – and you! – will love to go through them and remember all the events which have been so important to them.
Happy photo- booking!